The world feels like a different place today than it did just a few weeks ago, and if you're fortunate enough to have your income unaffected by the pandemic, now is a great time to clean up and refresh your home for the new year ahead – especially now that many of us are home all the time right now (#stayhome). I'm happy to partner with AllModern.com on this post as part of their "Mad for Mid-Century Modern" campaign. What better place to start than with the room where everyone gathers and spends time: the living room!
I for one happen to have some furniture (a sofa and accent chair) in my living room that my father-in-law made, and though it's in like new condition and we'll have it for a lifetime, I can't help but daydream about new furniture in there sometimes!
If you saw my project reveal of the Jacksonville Modern Beach House you know I love me some mid-century modern style. My Pinterest boards and Instagram saves would definitely agree!
I've picked a collection of furniture from allmodern.com made by Gus* for my imaginary living room refresh. Gus* (and yes, that's just how the company name is spelled – with an *) is a great company based in Toronto, Ontario and available through allmodern.com. A few things I love about the company are:
Now let's move on to the pretty! I've picked a suite of furniture plus a rug here that are all in the mid price range. I've also summarized below what makes each of these items green – and while none of them are prefect as far as sustainability (vintage furniture is definitely the way to go for a real mid-century inspired room!), these picks will set you up for success, for a decent price, and leave you feeling like you made the effort to choose sustainable furnishings in your refresh!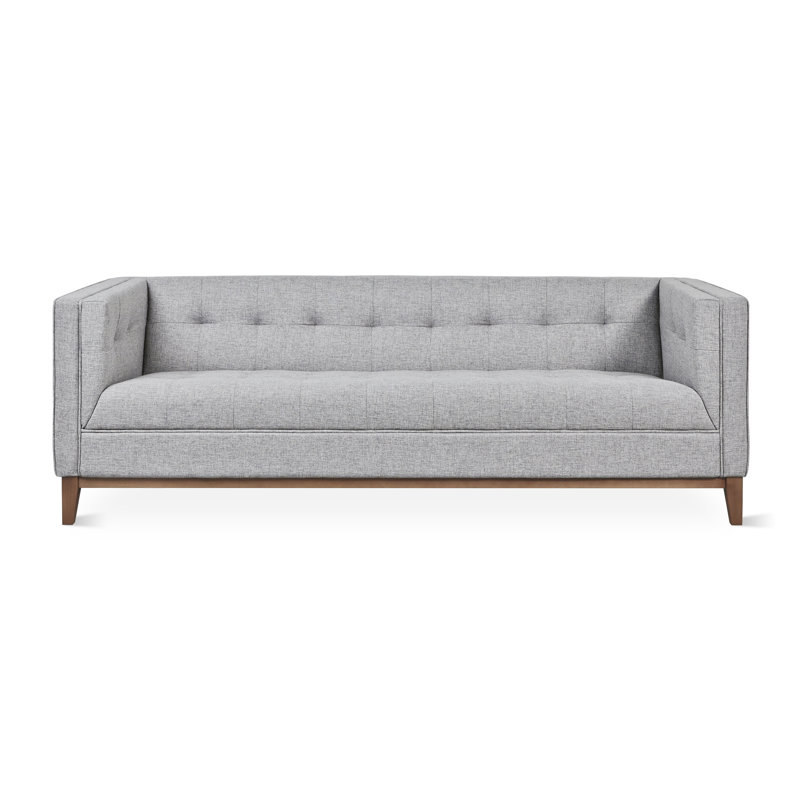 So, let's start that living room refresh with the sofa – the centerpiece of the living room! I'm daydreaming about the Atwood Sofa. I love its style and while I'd say it certainly has those mid-century modern vibes, it's also super versatile making it a great investment giving you the ability to restyle your living room over time (and even through different houses/moves!) without feeling like this sofa is out of place. I'm going to write a series of blog posts soon giving you lots of great info about what to look for when buying various types of furniture – but as a quick rundown, the Atwood Sofa checks the following boxes – and I'd encourage you to check for these when buying any investment piece sofa.
Solid wood base and legs.
Kiln-dried 100% FSC®-Certified hardwood frame.
Manufactured to meet California TB117-2013 – Flame Retardance of Resilient Filling Materials Used in Upholstered Furniture. (This is a mandatory fire safety standard that is being met for this product without the use of flame retardant additives in the upholstery foam. (see more below about this!))
Manufactured to meet California TB116 – Flame Retardance of Upholstered Furniture. (This is a voluntary fire safety standard that means that either the cover fabric, the barrier, the fill, or a combination of them have passed testing.)
Does not consists of formaldehyde. (Formaldehyde is used in making resins such as urea-formaldehyde that are used in adhesives for some composite wood products (particle board, fiberboard, and plywood) often used to manufacture furniture. Formaldehyde is also found in some paints, lacquers, and coatings used to manufacture wood furniture.)
The textile I chose is a blend of 49% Cotton, 46% polyester and 5% linen. While I prefer a 100% natural textile, Gus* doesn't currently offer that or COM (customer's own material) – so this is a good pick versus a fully synthetic textile option.
More about fire retardants ….. Extensive media coverage, and actions by the Environmental Protection Agency have informed consumers and retailers regarding concerns associated with flame retardant chemicals. Manufacturers have created a safer and healthier workplace for employees by reducing contact with harmful flame retardant chemicals. Manufacturers were also subject to lawsuits after the furniture flame retardant, "chlorinated Tris" or TDCPP, was listed on California's Proposition 65 in 2012. For products without added flame retardants, liability concerns are reduced regarding TDCPP and other flame retardant chemicals that might be banned or listed.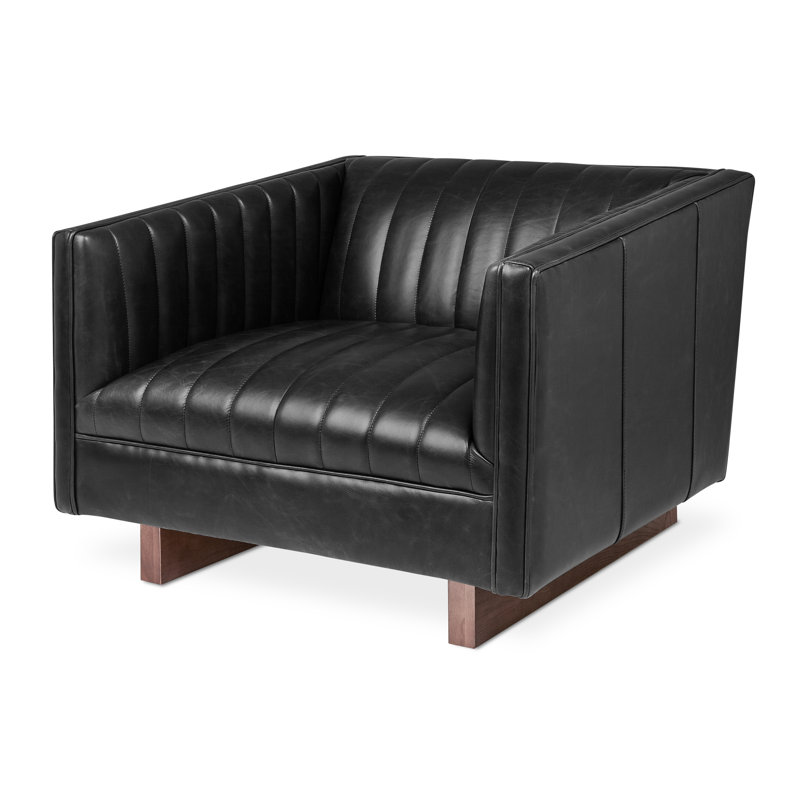 OK, back to the pretty. This Wallace Armchair gives me all the Don Draper vibes and would be the perfect spot to curl up with a cocktail and watch some Mad Men – mid-century modern perfection. I love the black leather next to the light tweed sofa. Here's a few highlights about this chair:
Manufactured to meet California TB117-2013 fire safety standards without the use of flame retardant additives in the upholstery foam.
CARB (California Air Resources Board) Phase 2 compliant. (This regulation has to do with reducing formaldehyde emissions from composite wood products, hardwood plywood, particleboard and medium density fiberboard (MDF). (see more below about this!))
Leather is a natural and durable upholstery choice.
More about CARB … While I always prefer a hardwood frame, sometimes there are benefits to furniture that uses composite wood products. If your product uses composite wood products you should always check that it meets CARB Phase 2. In the 2009 rollout of the CARB's Airborne Toxic Control Measure (ATCM) (called Phase 1), formaldehyde emissions were capped at .08 parts per million (ppm). CARB Phase 2 went into effect in 2010 and has much lower formaldehyde emissions than the previous phase; set at .05 ppm! This regulation is important because it ensures the air we breathe is healthy and free from carcinogens that can harm us. As of 2011, formaldehyde was added to the federal government's carcinogen list due to its health effects – often nose and throat irritation, burning eyes, wheezing or difficulty breathing, headaches, and nausea. Formaldehyde is a colorless gas and is emitted from a variety of sources – fireplaces, tobacco smoke, wood burning stoves, resins such as urea-formaldehyde that are used in adhesives for some composite wood products (particle board, fiberboard, and plywood) often used to manufacture furniture, and can be found in some paints, lacquers, and coatings used to manufacture wood furniture, to name a few. The CARB regulation ensures formaldehyde emissions do not exceed the limit set.
I also want to point out that sadly both the Atwood Sofa and the Wallace Armchair use polyurethane foam for their cushions. Gus* does offer a great new synthetic-down fill material in some of their sofas which is made from recycled PET plastic water bottles and I hope they'll expand to include this innovating fill in all of their upholstered products. So far they prevent over 600,000 bottles per year from entering landfills! Allmodern.com carries the Margot Sofa which uses the PET fill material.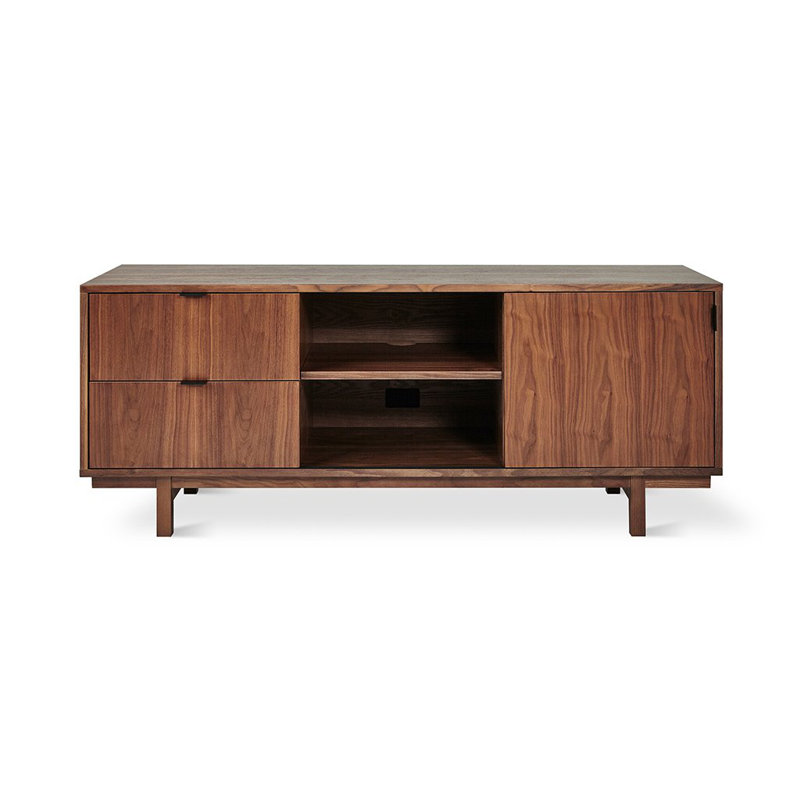 Next up, what about an updated media cabinet! I love this Belmont TV Stand, which would definitely end up full of kids toys in my living room. It is also CARB Phase 2 compliant. It has all the mid-century modern vibes – and while I'm a huge fan of vintage credenzas, this is a cutie in the realm of new and affordable credenzas.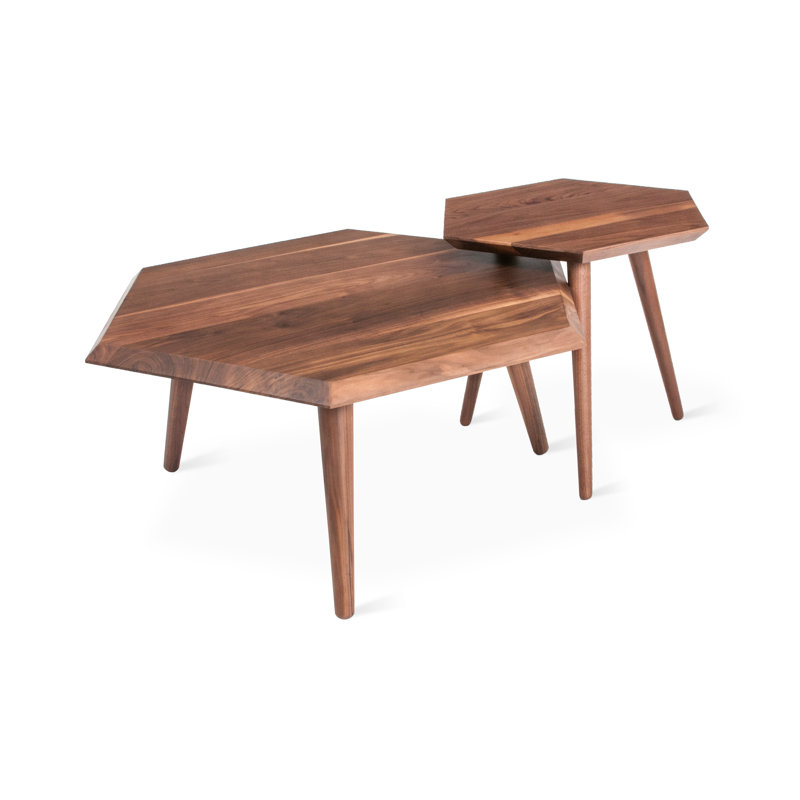 And lastly the Metric Coffee Table and End Table put a finishing touch on the mid-century modern furniture refresh. These two nesting tables are both solid wood which I always look for for durability and I love that they are lightweight and moveable. Our living room does double duty as a playroom, so being able to clear off the rug space for play is super important to us.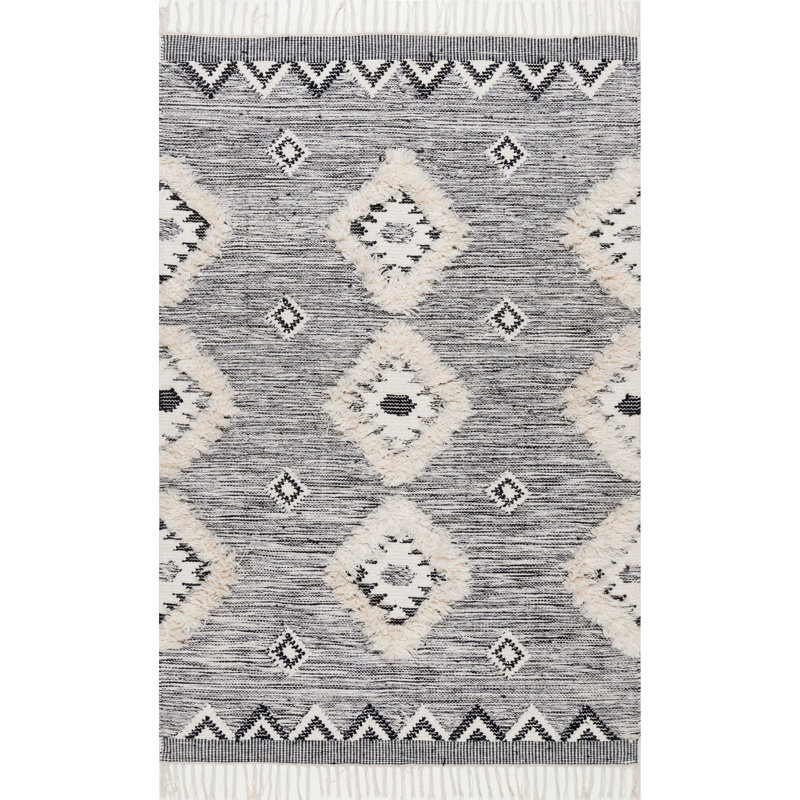 And last but definitely not least speaking of rugs, I'd grab this Cawley Hand-Knotted Wool Gray Area Rug to complete the room. I always look for natural fibers when I'm rug shopping and this one checks the box at 100% wool. This one is hand made / hand knotted in India.
You can find links to all of my picks summarized below for you! And make sure to check out allmodern.com's guide to mid-century modern design (so useful!) for more ideas, inspiration, and education!
Stay safe, stay healthy, and #stayhome everyone.